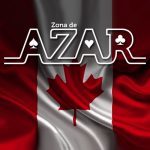 Canada.- October 27, 2023 www.zonadeazar.com mkodo Limited ("mkodo") has partnered with The Six Gaming, one of the fastest growing brands in the iGaming industry, providing it with the leading geolocation verification solution GeoLocs.
The Six Gaming has chosen GeoLocs as it enters the Ontario market, and the partnership will enable the company and its clients to operate in the Canadian province with the assurance that they are fully compliant with local regulations.
GeoLocs is one of the leading geolocation verification services dedicated to the iGaming sector and was one of the first to operate in Ontario. GeoLocs was built specifically to support iGaming brands, ensuring they are operating in licenced jurisdictions and that they are providing responsible gaming to their customers.
GeoLocs delivers The Six Gaming's clients a world-class geolocation solution to overcome a number of challenges unique to iGaming operators when it comes to verifying a player's location. GeoLocs is quick and seamless to integrate into the infrastructure of an operator or platform provider whilst offering an easy-to-use backend portal that allows self-management of geo-allow and disallow regions and areas.
With no companion app or additional downloads required by the end user to verify their location before playing on real-money gaming websites or iOS/Android applications, the player facing (or front-end) UX/UI experience is second to none.
Stuart Godfree, Managing Director at mkodo, said: "mkodo is delighted to be partnering with such a significant iGaming business as The Six Gaming. We're happy they're on board and pleased that they are able to offer their clients our expert geolocation service as they enter into new markets across North America. We look forward to a successful partnership to come."
Kris Kukula, Director at The Six Gaming, said: "It's great to be able to offer our clients more choice when it comes to geolocation. GeoLocs is a great partner as the technology, knowledge, and expertise of the Canadian market is second-to-none. We see mkodo as true partners, and we're excited to work together to unlock value from our investment in their cutting-edge geolocation technology, which has enabled us to launch and operate in Ontario."
Edited by @pererarte   www.zonadeazar.com