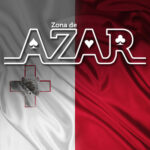 Malta.- July 14, 2023 www.zonadeazar.com The era of iGaming started decades ago, but there are still many land-based casinos that don't have an online segment of their business. It may seem that these segments are opposite and even struggling. However, the truth is that success is much more possible when you unite efforts in these directions rather than competing. Let's review how it works.
The Niche of iGaming and Land-Based Casinos
The rapid growth of iGaming popularity is a solid fact. The International Gambling Report 2021 by YouGov states that 63% of respondents worldwide prefer online gaming to offline gaming. In the UK, it's 70%; in the US, it's 58%; in India, it's 76%.
We have become accustomed to explaining the growth of iGaming with the Covid-19 argument, but it seems we have forgotten that similar trends were occurring before 2020. According to the article by Mariano Chóliz, a professor at the University of Valencia, global spending on online gambling has been rapidly growing since 2012, while global spending on traditional gambling has not grown as much.
Pre-pandemic global spending on gambling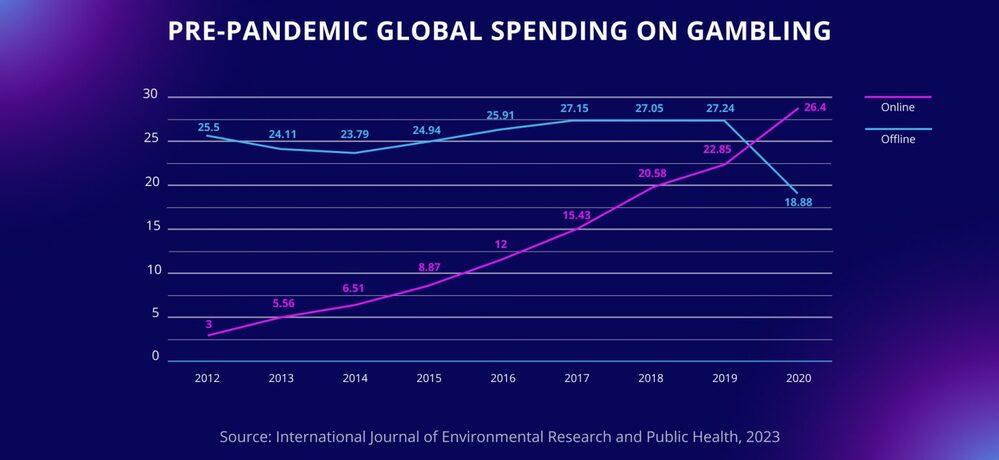 The significant impact of Covid-19 is over, but the online sector of the gambling industry continues to show the fast growth. For example, according to the British Gambling Comission's market overview, from January to March 2023, the GGY (Gross Gambling Yield) of online betting increased by 13%, while the GGY of offline betting increased by only 6%. According to the Grand View Research market analysis report, the predicted online gambling market size for 2023 is $70.6 billion and for 2030 it'll be $153.6 billion.
The basic reason for the prosperity of the industry is the rapidly increasing access to the internet and devices worldwide. The pandemic became the catalyst for the growth of iGaming but the growth itself was predetermined by the technical progress.
Audience Comparison
The activity of iGaming and playing at land-based establishments are similar. However, the audience segments for these two segments differ.
According to the research results published in Journal of Gambling Studies, the average age of online poker players is 29.6 years, with over 75% of respondents being under the age of 35. Online casino players and bettors also tend to be on the younger side (18-35). For example, 47% of Canadian iGaming players are between 20 and 29 years old.
The audience at land-based establishments tends to be older. According to the study by Andrew Cardno, in the US, 70% of traditional slot machine revenues come from players over the age of 55, with the largest revenue share represented by the 60-70 age group. The smallest revenue share is from the 20-30 age group, which is even smaller than the 80-90 age group.
The gender distribution also differs. According to International Gambling Report 2021 by YouGov, 66% of males prefer gambling online only, while this metric is a little lower for females at 58%.
The income level of players also varies depending on the country. According to the study results, the average Canadian player earns about $75,000 per year and has a college degree. In contrast, average players in developing countries have low incomes and they try to benefit from gambling rather than just to have fun.
However, it's obvious that iGaming has a lower barrier to entry than land-based casinos do. According to the article, published by Tilburg University, young adults are more likely to engage in iGaming after visiting a land-based casino. They could enjoy the experience but can't afford to play frequently. Visiting a land-based casino usually involves travel, hotel bookings, and other costs. In the case of poker, minimal buy-ins at land-based casinos are usually much higher than in online poker rooms.
Land-based casinos and iGaming audience comparison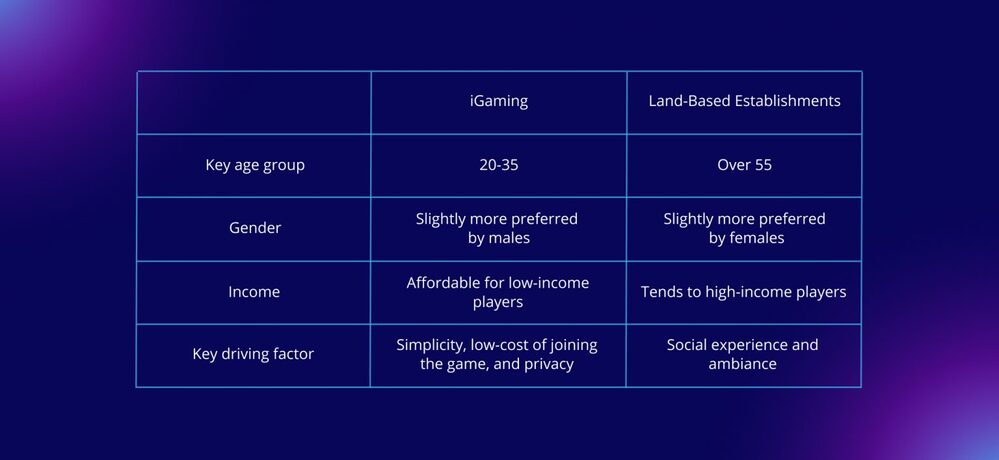 Online gaming projects tend to imitate land-based establishments using live dealers, video chat and other tools to increase the immersivity. Maybe someday iGaming will be able to give the same experience players have at traditional casinos, but at the current level of technology, it obviously can't. Therefore, we don't speak about the end of the land-based era. iGaming doesn't steal market share from offline casinos, but rather expands the audience of the gambling industry, and the collaboration between online and offline projects could lead to unprecedented success.
Collaboration Between Online and Offline
An iGaming project can be a profitable investment itself. Online casinos or online poker rooms bring in great revenue and should be seen as a source of income. At the same time, they can boost the land-based segment of your business, and vice versa.
The way you make iGaming and offline establishments work together depends on your specific market, audience peculiarities, and legal issues. You can either collaborate with a current iGaming operator or launch your own project. Most of the following tips can be used in both cases.
Brand Exposure
Launching an online casino expands the brand's reach and increases visibility beyond the local market. This can attract new customers who may not have been aware of the land-based casino, resulting in increased patronage at the physical location.
It could even be an iGaming project that doesn't belong to the offline casino. You can contact the operator and ask them to brand some of the rooms or tables with your identity. It would be a kind of promotional campaign. However, this is the simplest variant, and the collaboration can be much deeper and more effective.
Cross-Promotion
The online casino can serve as a promotional platform for the land-based casino, offering exclusive deals, bonuses, or special events to online players. This can attract more players to the land-based casino, increasing foot traffic and overall revenue.
The opposite is true too. Land-based casinos can offer their visitors an online experience. If players can afford visiting casinos any time they want, they probably won't go online. But the others could be interested. They will most likely try iGaming, and you can motivate them to play exactly on your platform by suggesting bonuses.
Even if you collaborate with a third-party operator, you can realise such cross-promotion with the help of referral or affiliate programs.
Increased Player Database
The online platform allows for the collection of valuable player data, including preferences, playing habits, and demographics. This data can be utilised to enhance marketing strategies and provide personalised experiences, ultimately increasing customer satisfaction and loyalty.
Grand Poker Tournaments
Organise online poker tournaments as satellites that culminate in live events held at the land-based casino. This creates excitement and a sense of prestige, encouraging players to participate in both the online and offline components, leading to increased revenue from tournament entries, accommodations, and additional spending on-site.
The online poker room has much lower operational costs, so you can increase the scale of the event with minimum investment.
For example, the World Series of Poker provides the online step of its annual tournament in collaboration with top online poker operators such as PokerStars or GGPoker.
Seamless Omni-channel Integration
A casino can offer various channels for users to gamble, including land-based halls, a website, and a downloadable app for smartphones or tablets. When these channels are closely connected, providing a seamless experience, the casino can be considered to offer an omni-channel experience.
According to research, 63% of the US online players would like to make deposits at physical locations to fund their online gaming accounts.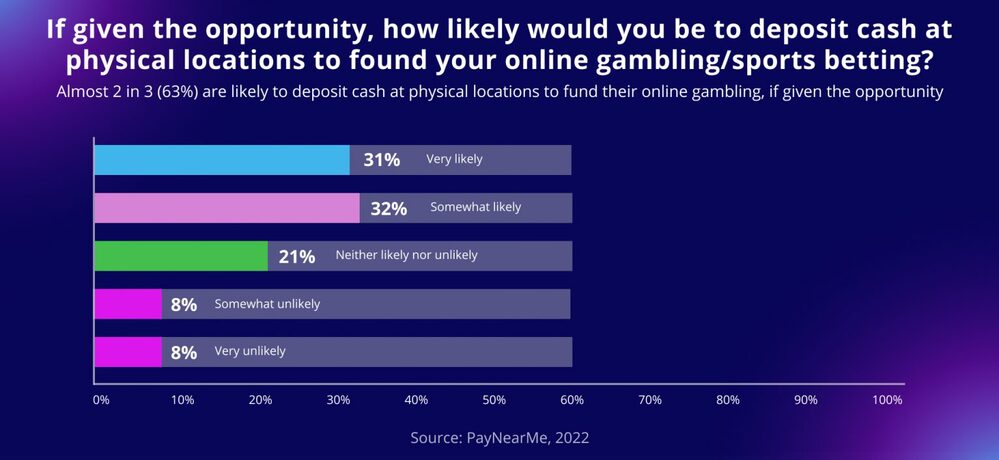 Omni-channel deposit in gambling research
However, today, the casinos that fully embrace the functionality and possibilities of omni channels are the ones that align best with how users prefer to play. For example, a gaming enthusiast may not only want to use the same login credentials for both the online casino and the physical casino but also want their progress in games to carry over across multiple channels.
Conclusion
Launching an iGaming project requires much lower costs than opening a land-based casino. The online casino or online poker room wouldn't take customers away from the offline establishment. By launching an iGaming project in addition to the land-based one, you expand your target audience, improve players' retention and LTV, increase your income, and gain the synergy effect.
If you are considering launching an iGaming business, you should pay attention to our products. EvenBet Gaming provides a poker-centric gaming platform with 10,000+ games from world-famous providers and also offers 38+ poker and popular card games such as Rummy, Call Break, Big 2, and Teen Patti to integrate into other platforms.
Editó: @Pererarte www.zonadeazar.com